Introducing: The Steam Collection, limited edition of 50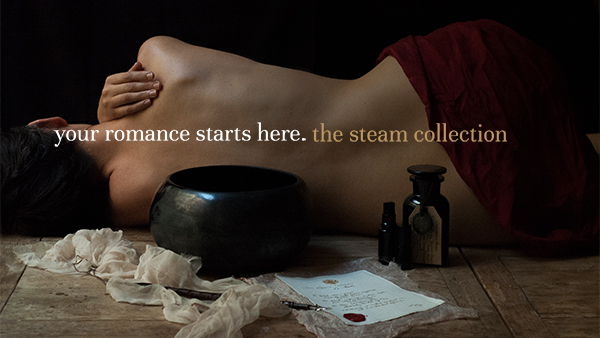 Thank you. Thank you, thank you, thank you. Thank you for holding the space for me to create with no barriers, to truly give my all to bringing whimsy and delight into my work, and to being able to share the fruits of my love with you.
I cannot express how grateful I am for your support of what I do. This collection is my total dream ritual, and I am beyond delighted to introduce something I have worked so incredibly hard on with you. I am so excited for you to experience the beauty of steaming – what it can do for both your skin and spirit.
This time is for you.  You deserve every precious moment.
Below, I take you into the ritual, step by step. These are guidelines. As with all things, I encourage you to play, to experiment, to discover what delights your individual skin.
I am always here if you need me. Do reach out, I love hearing from you. It is truly an honor to give you my care.
Love always,
May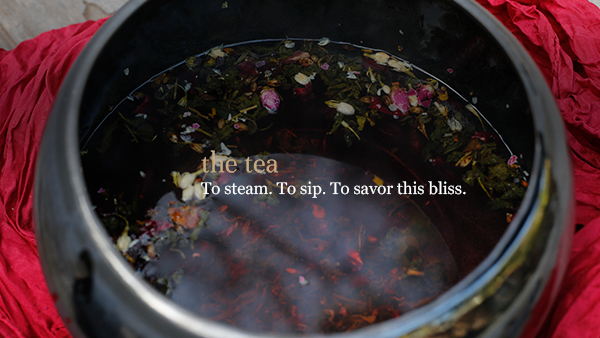 To steam:
1. Bring a pot of water to a rolling boil, and gently fill your steam vessel 1/3 to 1/2 full.
2. Add 1-2 Tbsp. of Chinatown Lover facial tea to the vessel and steep for 2-3 minutes.
3. Slowly lower your face into the opening of the bowl, allowing the curved sides to cradle you safely.
4. Drape your silken scarf around you, tucking the edges to fully lock in the steam.
5. Rest and breathe deeply for 10 minutes, or as desired. Savor this. Feel your breathe fill your body with fresh oxygen. This is your time.
6. Rinse skin with warm water.
7. Massage I am Love beauty oil into wet skin, immediately following your steam ritual. Allow the warm skin to drink in all the goodness.
8. Acknowledge your beauty. You are infinitely worthy.
9. Sweep I am Love scent experience over pulse points and anywhere you wish to bring a touch of delicious intoxication. Let your senses be captivated every hour of the day, keeping you grounded in this ritual and to the sensuality of your skin.
To sip:
1. Bring water to boil, and fill your desired cup or teapot.
2. Suspend tea in the water (1/2 tsp. per cup), and steep for 3-5 minutes.
3. Savor on its own, or sweeten with a bit of raw honey as desired. Indulge hot or chilled.